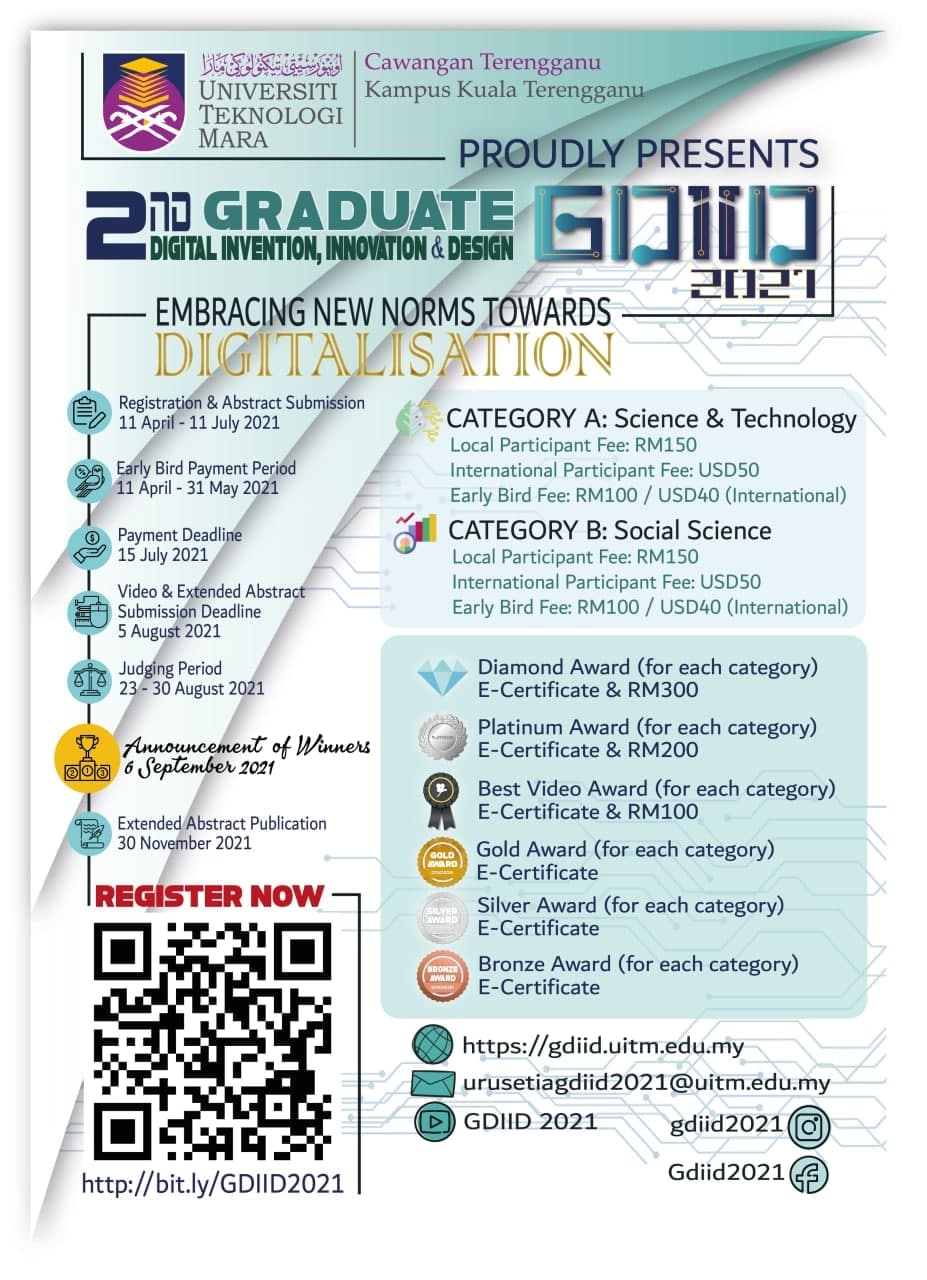 Assalaamu'alaikum / Greetings
Y.Bhg Dato'/Prof/Assoc.Prof/Dr/Sir/Madam,
It is a pleasure to invite you to participate in the 2nd Graduate Digital Invention Innovation and Design (GDIID) 2021 with the theme"Embracing New Norms Towards Digitalisation".
Graduate Digital Invention Innovation and Design (GDIID) 2021 is a competition specially designed to provide exposure and highlight the use of technology applications in field creation. This competition is the second time organised by Universiti Teknologi MARA Cawangan Terengganu Kampus Kuala Terengganu previously held in 2019. The program offers opportunities for students at the tertiary level both in Malaysia and abroad to showcase their ideas, design forms and projects in Science & Technology and Social Sciences that can be shared with and disseminated to the public.
Important Dates:
Registration & Abstract Submission : 11 April - 11 July 2021
Early Bird Payment Period : 11 April - 31 May 2021
Payment Deadline : 15 July 2021
Video & Extended Abstract Submission Deadline : 5 August 2021
Judging Period : 23 - 30 August 2021
Announcement of Winners : 6 September 2021
Extended Abstract Publication : 30 November 2021

For more information on registration, submission & payment, kindly log on to:
Registration link: http://bit.ly/GDIID2021
Website: https://gdiid.uitm.edu.my
Email: This email address is being protected from spambots. You need JavaScript enabled to view it.
or
Follow us at
Facebook: https://www.facebook.com/Gdiid2021
Instagram: https://www.instagram.com/gdiid2021

See you soon!