From Wednesday 15 September 2021 - 08:00am
To Thursday 16 September 2021 - 05:00pm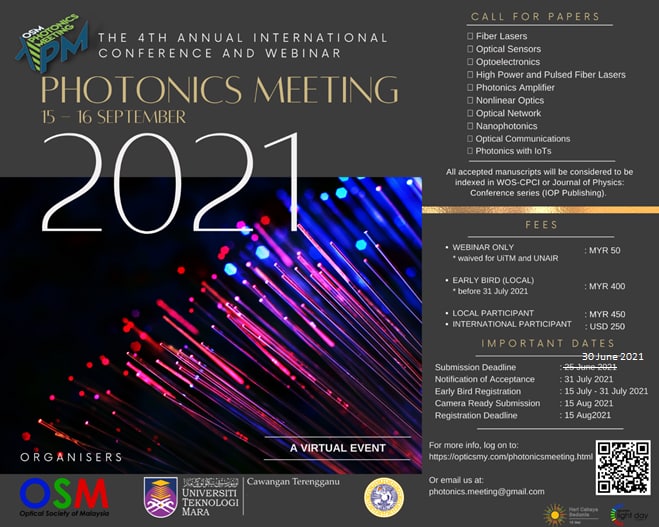 Assalamualaikum and Greetings.
Dear valued participants,

Call for Papers: The 4th Annual International Conference and Webinar in Photonics Meeting 2021
We would like to invite you to submit an extended abstract to the upcoming 4th Annual International Conference in Photonics Meeting on 15-16 September 2021 that will be held virtually.

The topics are as follows but not limited to:
 Fiber lasers
 Optical Sensors
 Optoelectronics
 High power and pulsed fiber lasers
 Photonics Amplifier
 Nonlinear optics
 Optical network
 Nanophotonics
 Optical Communications
 Photonics with IoTs
All accepted manuscripts will be considered to be indexed in WOS-CPCI or Journal of Physics: Conference series (IOP Publishing).
PREVIOUS PUBLICATION https://iopscience.iop.org/issue/1742-6596/1371/1
Followings are the important dates:
Extended Abstract Submission: 30 June 2021
Notification of Acceptance: 31 July 2021
Early Bird Registration: 15 July - 31 July 2021
Registration Deadline: 15 August 2021
Webinar Date: 15 September 2021
Conference Date: 16 September 2021
For more information on the conference, please click the link: https://www.opticsmy.com/photonicsmeeting.html
If you have any enquiries on PM2021, do not hesitate to contact: This email address is being protected from spambots. You need JavaScript enabled to view it.